Qui est en ligne ?
Il y a en tout
1
utilisateur en ligne :: 0 Enregistré, 0 Invisible et 1 Invité
Aucun
Le record du nombre d'utilisateurs en ligne est de
25
le Sam 16 Mai 2015 - 15:39
Statistiques
Nous avons
292
membres enregistrés
L'utilisateur enregistré le plus récent est
Kusaki
Nos membres ont posté un total de
4765
messages dans
1013
sujets
 Nin vs Lg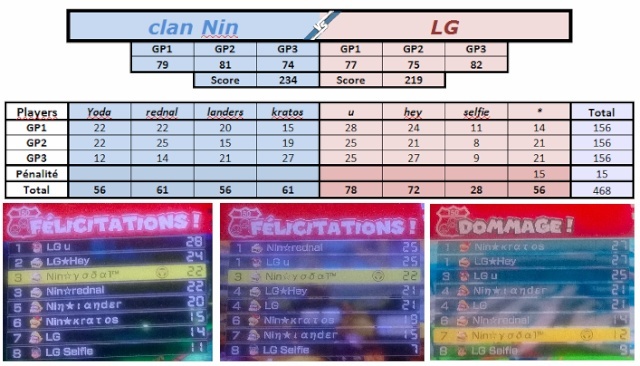 EXTRAIT DU REGLEMENT INTERNATIONAL MKBL::

"II. Mii Names
a. Your clan tag needs to be placed at the beginning or end of your Mii name. It must be CLEAR and LEGIBLE.
Example:
im Player
Player im

b. Tags must be similar to those being used by other teammates.
c. Names being used by a member may not be that of another registered name from the team he or she is registered to or the team they are playing.
d. Players must not use the same mii name as another player playing in the war.
e. Any of the above rules broken result in a -15 point penalty. The penalty will not count for every gp separately but will apply to every member breaking said rule.
f. Due to the initial lag of changing Mii's online using the quick-change trick, players are not to be penalized for incorrect tags during the first one or two initial races. If the Mii does not correctly display by the end of the first GP, they will incur -15 point penalty per player.
a) If the room must be restarted before the first GP is completed, the player is not to be penalized"
Le joueur ne porte pas de pseudo, il n'est dons pas distinct de son tag.
NOUS AVONS ETE INDULGENTS, D'APRES LE REGLEMENT NOUS AURIONS DU RETIRER 15 POINTS PAR GP.
GG, sans ça y'avait égalité gg landers qui disait qu'on gagnait de 4 pts

PyraxMK8




Messages

: 153


Date d'inscription

: 02/06/2014


Age

: 20



GG's les pti loups^^  

vampirou




Messages

: 137


Date d'inscription

: 30/05/2014


Age

: 39



---
Permission de ce forum:
Vous
ne pouvez pas
répondre aux sujets dans ce forum